Chairman
Eng. Moumen Alkhateeb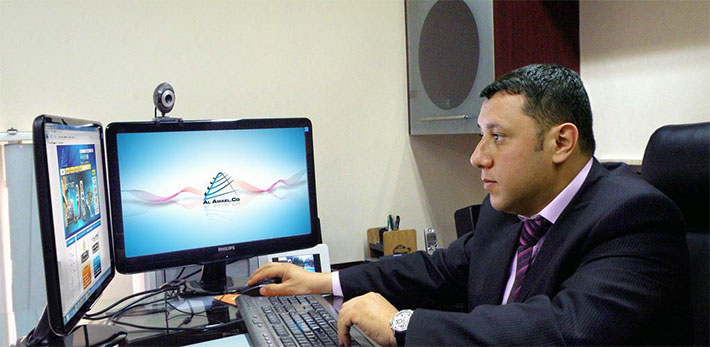 Birth Place: Damascus, Syria.
Best Known as: The founder and General Manager of Al-Awael Group


Introduction:
Eng. Moumen Al Khateeb is a young Syrian business leader, who achieved through 17 years of business experience a lot of remarkable accomplishments in the Syrian market. Eng. Moumen Al Khateeb is the CEO of Al AWAEL GROUP . He is the founder and the contributor of AL AWAEL Group and a board member of sister companies ; AL AMIR the 2nd Syrian CD & DVD manufacture , A-BTECH for networking accessories Trading , MAGIC COLOR & PRINT HOUSE for printing, CHINA TOWN for home appliances Trading and Al MANAHEL company for Bathrooms accessories Trading.
Eng. Moumen Al Khateeb Business Background:
Moumen was born in 1974.
Studied Electronic engineering at Damascus University.
A self made man who started his business since he was a second year student at the university.
His studies helped him enter & develop the growing computer market in Syria with the help of his brothers Maher & Mulham Al Khateeb through CEC company in 1992.
In 1998, he established his first company AL AWAEL. A company, that specialized in importing and distributing computer parts & accessories.
Looking forward to enter the industrial field, he established also with the assist of his university colleague Mr. Hazem Habbab in 2004 the 2nd CD & DVD factory Al Amir in Syria.
Eng. Moumen Al Khateeb dreams are endless. In 2005, he opened the second branch of Al AWAEL; the Security department then, another specialized department ,the POS trading company AL AWAEL solutions which expanding his original company.
The success of these two branches also proved Moumen's ability to enter a new business challenge in trading & distributing and, so he extended his business more and more to enter a very different trading field by establishing CHINA TOWN a Company for home appliances in 2007 then
In 2008 followed with the Magic Color for printing
Consequently, Eng. Moumen Al Khateeb's management skills and ambitious developed AL AWAEL to be AL AWAEL Group .
Quote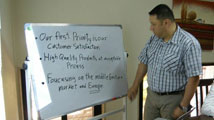 إن كل عمل يجني المال فقط هو عمل فقير
Al-Awael Group Slogan: "A Business that Makes Money Only, is a Poor One"
On this philosophy our group has grown up planting inside its members the love and respect of people, work, company and community.