Awael Group
Middle East
Since its establishment in 1998, Awael has achieved significant growth, due to its commitment to helping vendors grow their brand awareness and reputation within Middle East and Arab countries, helping them further develop their supply chains and exposing their products to the widest possible range of customers. As a result, Al-Awael is the exclusive distributor for many of the brands it represents.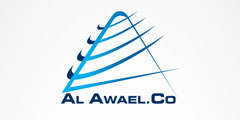 Our partners always benefit our value-added distributors with strong technology infrastructure, logistics expertise and knowledgeable account managers. We are a partner of many powerful world-wide brands, and we provide best business practices to make doing business with us as easy and efficient as possible.
Awael has long-term successful relationships with many of its channel partners and now offers more than 300 products from best producers such as Philips, Creative, Ritek and Transcend and supply these products to major retail partners and hundreds of smaller independent retailers, consultants and other resellers in Arab countries.
Customer service in our company is a real distinctive for our business and we run efforts to help our new and existing channel partners maximizing their margin and market share by constantly widening our product and brand catalogue and supplying first-rate pre- and post-sales and market- ing support. This allows us to meet the demands of a fast moving market and offer greater choice and better service, making Awael one of the easiest IT distributors to do business with.

We continue to grow and are accessible to vendors, resellers and corporate end-users of all sizes. We look forward to doing business with you.
Powerful Management Makes Dreams Realities
Awael: is an Arabic word that stands for "The Pioneers".
Awael Group Started as a small company, with no credentials or history. The resources that existed were Faith, Knowledge and Hard Work.
Consequently, the company started to rise and shine in Syrian Market, and started to gain all the surrounding trust from employees, dealers, clients and even end-users, and gained the respect of competitors even. Employees started to feel lucky to work for Awael Company as it continued to widen its range and to add more employees to the team.
Future movements were made to add companies and business domains to the group, to develop business under the name of Awael Group.
Eng. Moumen AlKhateeb, is the founder and chairman of Awael group and the developer of its business all along the success curriculum.
Clients support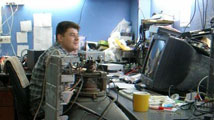 Because support is one of the most important points in the client-company relationship
Our business mentality and the experience taught us that the key feature for the success of any product or brand is the after- and pre-sales service, and that concluded to the need of a powerful services center with the weapon of powerful maintenance department and team.
Read More
Management Mentality
Taking care of our employees by providing well training and intellectual nurture, so our joint work contribute widely to the improvement of society.
Awael Group
Business
Awael Group was established in 1998, through the main company Al-Awael for Computers by Eng. Moumen Alkhateeb, Founder and Chairman of the Group. Through these years, business had developed more and more.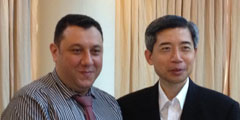 Awael Group mainly works in three fields as below:
Computers and Accessories.
Security and Safety Appliances.
Point Of Sales Appliances.
Awael Group headquarter office is located in Damascus, Al-Halbouni area, composed of three floors with a 350 M2 space.
Moreover, Al-Awael Group deals with more than 50 main distributors in all Syrian cities, in addition to more than 300 retail shops.
Al-Awael Group has the pleasure to introduce themselves as the leaders in Syrian market for each work domain they get involved in.
Awael Group
Ideology
Inspiration to do job comes from the interest of serving clients and our country first, and then looking for good sales. For that, Awael Group tried to ensure good after sales' services and a powerful technical support for the products.
The professional team in Awael Group keeps clients very satisfied with the results to ensure the best service.
Awael Group
Vision
For more than ten years, Awael Group has pioneered technology products distribution to empower the world dream of technology. The hard work that has been done, is a proof of being a world-class group.
The well-trained team completes the mission, which was started earlier to serve our country Syria and raising its name.

The most thing serves us is our good reputation among our dealers, customers and even with competitors, that comes from our relations with others.
Philosophy
Our group has grown up planting inside its members the love and respect of people, work, company and community.
Partnership
Power of Partnership Efforts Makes Highly Effective Results
Awael Group believes in the power of gathering efforts to work and harvest the best effective results.
The chart will show how the Group is connected to other companies and factories, results are shown as smiles on our clients' faces.

Awael Group will always aggressively develops new ways of painting these smiles.